Assisted living Boynton Beach offers a variety of top-quality communities designed to cater to the unique needs of seniors in Palm Beach County. To ensure the best possible care for their loved ones, individuals and families should understand what each assisted living facility in Boynton Beach offers and how it can support their senior's well-being.
In this comprehensive guide, we will explore some of the premier facets of an assisted living facility in Boynton Beach and the financial assistance programs available for eligible seniors. Furthermore, we will discuss how these communities address specific health concerns such as Parkinson's disease and maintain high-quality standards that ensure residents' safety and comfort.
Join us on this journey through assisted living Boynton Beach communities as we delve into all aspects that make them exceptional choices for your loved ones' golden years.
Table of Contents:
Assisted Living Facilities in Boynton Beach
Boynton Beach, a charming town on Florida's eastern coast, offers various assisted living facilities for eligible seniors.
When scouting for assisted living communities in the Boynton Beach region, it's essential to select one that fits your family member's desires and requirements. Also, look into various activities offered, the dining options available, as well as possibilities for opportunities for culture and education.
Financial Assistance Programs for Assisted Living in Florida
Florida offers two programs to help eligible seniors with the cost of assisted living – Medicaid Managed Care Long-Term Care Program (SMMC LTC) and Assistive Care Services (ACS).
SMMC LTC covers eligible seniors in Palm Beach County, including those in Boynton Beach area assisted living facilities, for personal care, health care, transportation, and more.
ACS helps cover personal care services for seniors in assisted living communities along Florida's eastern coast, like Delray Beach or Boynton Beach, who are enrolled in Medicaid but not receiving long-term managed care through SMMC LTC.
Evaluating Top Assisted Living Communities in Boynton Beach
Selecting the perfect assisted living facility for your beloved one is essential, so we've taken on the work of finding it.

Resident Satisfaction Levels
Reviewing polling data on resident satisfaction levels provides valuable insight into what makes an excellent facility stand out among its competitors.
Complaints Records Analysis
An examination of complaint records helps identify any recurring issues within specific facilities.
Location-Based Benefits Assessment
Hospital Proximity: Close access to medical facilities ensures prompt attention during emergencies and allows for regular check-ups without significant travel burdens.
Importance of High-Quality Standards in Assisted Living Facilities
Don't compromise on quality when it comes to the well-being of eligible seniors in the Boynton Beach area.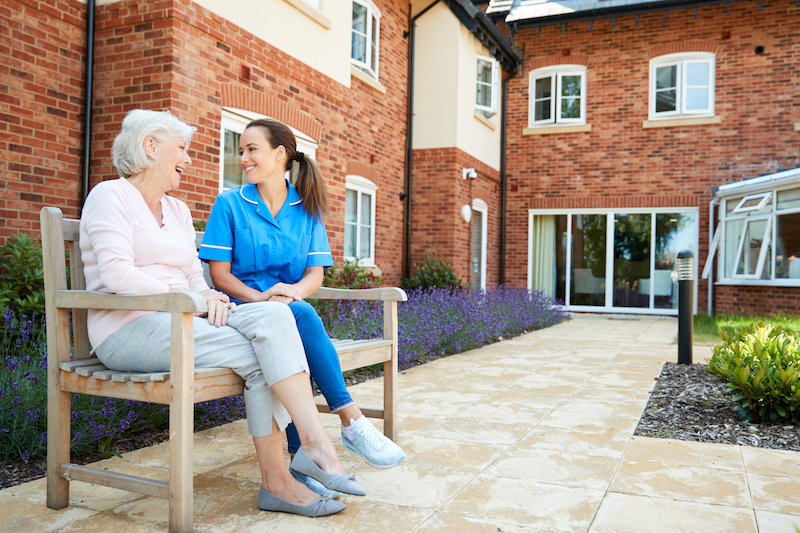 Catering to Specific Needs like Alzheimer's Care
Assisted living facilities in Boynton Beach offer specialized memory care programs and trained staff to address cognitive decline issues related to dementia or Alzheimer's disease, like Courtyard Gardens Senior Living.
Addressing Challenges Associated with Aging
Mobility: Accessible spaces, handrails, ramps, and other features that promote ease of movement are essential.
Nutrition: Balanced meals tailored according to individual dietary requirements and preferences are a must.
Socialization: Fostering social connections among residents through group outings or hobby clubs is vital.
Prompt medical assistance: On-site health care services or partnerships with nearby hospitals ensure timely medical intervention.
Comprehensive Assistance in Boynton Beach Assisted Living Facilities
Assisted living communities in Boynton Beach and Delray Beach offer comprehensive assistance to eligible seniors in Palm Beach County, on Florida's eastern coast.
Personalized Care Plans for Individual Needs
Customized care plans are created for each resident, addressing medication management, meal preparation, and personal hygiene assistance.
Prioritizing Safety Measures
Safety is paramount in senior living communities, with features like grab bars and non-slip flooring installed throughout the facility to minimize the risk of accidents.
Grab Bars: Strategically placed to help residents maintain balance while performing daily tasks.
Non-Slip Flooring: Provides better traction underfoot for elderly individuals who might have difficulty maintaining stability.
Fall Prevention Training: Ensures staff members are well-equipped with knowledge about how to prevent falls among residents and respond effectively in case of an emergency.
Palm Beach County Human Services Department: Ensures eligible seniors receive the appropriate level of care based on their specific needs.
Navigating Parkinson's Diagnosis with Understanding and Support
Families dealing with a parent's Parkinson's diagnosis or finding suitable memory care options require specialized attention due to cognitive decline issues related to dementia or Alzheimer's disease.
Assisted living communities in Boynton Beach, located in Palm Beach County on Florida's eastern coast, empower families navigating through challenging times by offering understanding and support while providing appropriate resources necessary during this journey.
Handling a Parent's Parkinson's Diagnosis
A Parkinson's diagnosis can be overwhelming for both the individual affected and their family members.
It is essential to find an assisted living community that understands the unique challenges associated with this condition, such as mobility difficulties, tremors, and speech problems.
Many facilities in Boynton Beach offer tailored care plans designed specifically for residents with Parkinson's disease.
Finding Suitable Memory Care Options
Assessing needs: Determine your loved one's specific requirements based on their current stage of cognitive decline.
Evaluating facilities: Research various assisted living communities in the Boynton Beach area that specialize in memory care services like those offered at Courtyard Gardens.
Touring communities: Visit potential facilities personally to get a feel for the environment, staff interaction, safety measures implemented, and available amenities.
Making an informed decision: Choose an assisted living facility that meets your loved one's needs while also providing peace of mind for you as their caregiver.
In addition to handling physical health concerns related to aging, assisted living communities in Boynton Beach also prioritize emotional well-being and social engagement for seniors facing cognitive decline.
FAQs in Relation to Assisted Living Boynton Beach
Average Cost of Assisted Living in Palm Beach County
The average cost of assisted living in Palm Beach County is around $4,375 per month, but this can vary based on location, amenities, and level of care needed.
Assisted Living Costs in Florida
Assisted living costs in Florida range from $2,500 to $4,000 per month, depending on location and services provided. Compare prices across different regions with Genworth's Cost of Care Survey.
Medicare and Assisted Living in Florida
Medicare does not cover long-term care or residential facilities like assisted living communities, but it may cover certain medical treatments received while residing at an assisted living facility.
Best Areas to Live in Boynton Beach
The best area to live in Boynton Beach depends on individual preferences and needs. Popular neighborhoods include Canyon Lakes for families and Quantum Village for shopping and dining.
Conclusion
Looking for a Boynton Beach assisted living facility? Make sure you do your research, evaluate your loved one's wants and needs, and arrange tours of several locations.
Financial assistance programs like SMMC LTC and ACS benefits are available for those who qualify in Florida.
Some facilities offer Parkinson's-specific therapies for seniors.
Choose an assisted living facility with high-quality standards, including support for mobility challenges and proper hygiene standards to reduce infection risks.