The Story Behind Courtyard Gardens Senior Living —
National high-end luxury resort developer Gregory "Skip" Gozzo and renowned assisted living and nursing home operator surgeon George C. Peck, Sr, with over five generations of combined experience, collaborate to create a new, innovative model for senior care living.
The Story Behind Courtyard Gardens Senior Living —
National high-end luxury resort developer Gregory "Skip" Gozzo and renowned assisted living and nursing home operator surgeon George C. Peck, Sr, with over five generations of combined experience, collaborate to create a new, innovative model for senior care living.
WHY
WHY do we do what we do?
Our name is Courtyard Gardens Senior Living, a boutique, five star resort senior living community. Who are we? Well, we would like to start with the why. WHY do we do what we do? We believe in creating a vibrant community that challenges the status quo relating to both perfecting and inspiring the next chapter of all of our Members' lives within the senior living community by creating something special: a five star resort senior living community that specializes in independent living which also includes supportive services and memory care.
How we get there includes the implementation of over five generations of successful methodologies and combining them to create maximum efficiency, leadership, service, and care within the structure of a defined setting and experience. So instead of asking WHAT we do to make our Members lives better, we would like to discuss WHY instead—because we believe that it is important for those around us to understand WHY we started doing WHAT we are doing and finally WHAT we are doing to bring our cause to life.
We (the Gozzo family) had an aging mother in her 90's who lived alone in Palm Beach County. As she aged in place and never wanted to give up her independence, we became curious about the options available for her. So we began our tours of assisted living communities throughout Martin and Palm Beach Counties. We saw facilities that were taking advantage of their residents by providing minimal care, in subpar buildings, at drastically unaffordable prices. On one of our tours we encountered a concerned family member who told us, "there are just no other options." Simply put, the high demand in this marketplace for those needing these types of services leaves family Members and residents with limited options available to them. That is, many of the buildings we toured were old, run down with musty odors, and the residents were disheveled and unkempt with minimal staff attending to their needs. They had little, if any, options.
After visiting over 75 facilities, we decided to talk with a friend, noted surgeon Dr. George Peck Sr., who owns and operates Courtyard Gardens Assisted Living in Jupiter. This is a 130-bed community which has been operating for the last 20 years and is always filled to capacity—this because of the compassion and attentiveness given to its Members. We teamed with Dr. Peck Sr. to create the most ideal and most efficient floor plan possible within a five-star, ultra high-end, Country Club atmosphere as well as a resort community for like-minded people.
Our building layout is the backbone of the culture we cherish, which promotes socialization, not isolation. The single story building, friendship suites, centralized amenities and common areas within an open environment all contribute to the feeling of socialization which is so very important to the Members. The courtyard design is integral in creating that centralization and socialization as all rooms have a point of beginning and wrap easily into a central gathering place—where Members can mix, mingle, dine and enjoy other activities. We created friendship suites so that every Member can maintain the independence of their daily lives, have socialization with one another, all while still living in a Country Club atmosphere with the finest of amenities, including 5-star dining, a wide array of activities, continuing education, and organized tours throughout Palm Beach County—all with the finest level of care and attention to each Member's mental and physical needs.
We had a vision to revolutionize this industry by offering what would be the FIRST affordable, five-star senior living community with a Country Club atmosphere. Designed with a British West Indies influence, the building is finished with multi-million-dollar detailed finishes. Members are welcomed into a main gathering area with soaring 14-foot boxed-beam ceilings with extensive crown moldings creating a welcoming feeling and a light and bright environment. The finishes also include custom chandeliers in not just the main gathering areas but throughout the entire building.
Careful attention was paid to each detail including all of the guest suites which include 10 feet ceiling heights. The custom suites are finished with hand-selected tile reaching to the ceiling, including 4-foot wainscoting going around the entire perimeter of the bathrooms. All hallways are 8 feet wide and accented with beautiful recessed ceilings and picture frame moldings along with 8 foot high doors and windows throughout the entire building.
Our need to re-shape this industry by offering better lifestyle communities across the state of Florida, both in quality of housing, and an exceptional level of care will help our senior loved ones feel more comfortable and safe in an unrivaled atmosphere with simply the best care for the best people in their lives. This is our WHY.
HOW —
We found that quality care really boils down to three things: people, technology, and culinary experience. Courtyard Gardens knows that passionate, enthusiastic, and loving care partners are the heartbeat of the lifestyle we provide.
It is of the highest importance to Courtyard Gardens to attract the best care partners within the community to service our members.
Highly Vetted Personnel
We know that care all boils down to the quality of our people. Courtyard Gardens attracts and thoroughly vets all care partners. We look for those who have discipline, passion and enthusiasm. They are trained to adhere to our program and standards and to provide individualized service and care for each Member.
Courtyard Gardens pays market rate or above for all staff within the community.
Yet even with an exceptional staff, we still need the proper tools to provide the best services to them. Our community utilizes the most innovative and cutting edge technologies available within the industry to completely and competently serve our Members–physically, emotionally, and spiritually.
Technological Advanced Software
Our electronic software care system offers tools to eliminate all paperwork and human error and provides electronic medical records for all residences in real time.
All suites are fully equipped with a nocturnal lighting system which automatically alerts nightly staff if a Member is out of bed.
Our staff utilizes a telemedicine system, which provides around the clock medical care with an MD.
Activities
We provide the highest quality of brain stimulating activities that provides thought provoking activities for all of our Members.
Culinary Excellence
We know the culinary experience is a big part of our Members' lives. We've created a vibrant dining environment with five-star cuisine and socialization to enhance the dining experience of our Members.
We provide chef-prepared five-star cuisine with indoor and outdoor dining all created from a gourmet menu.
We offer a Mediterranean-inspired and nutritional diet with a personalized menu tailored to our Members' taste.
The atmosphere where Members dine adds just as much to the culinary experience as the cuisine. This is why our Members can enjoy dining outside on the courtyard patio, listening to music in their 1950's themed Mel's Diner, with friends at our bistro, or in the main dining room.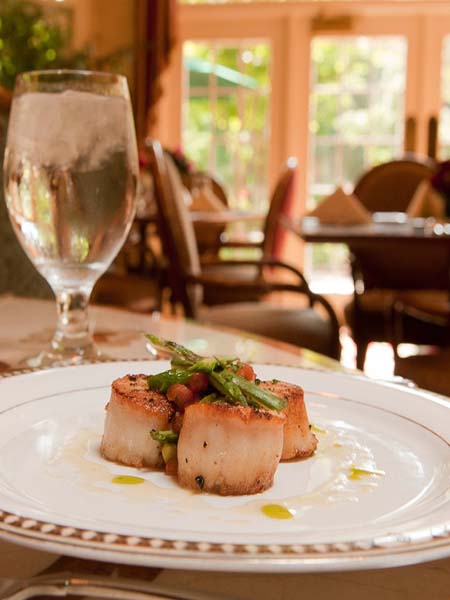 WHO
let's address who we are
Finally, let's address who we are. The Gozzo family has been developing ultra high-end luxury estates in resort communities all over the United States for the past 35 years. We know that building a community with the same architectural features and multi-million dollar finishes would change the landscape of this industry (visit www.GozzoEstateHomes.com to view some of the multi-million dollar homes that we have designed, built, and sold).
Each Member living at this community will enjoy the same luxurious finishes and lifestyle as the people to whom we have been selling these multi-million dollar homes for over the last 35 years. We have designed an extremely efficient floor plan with only 79 suites with the entire community centralized on ONE floor which surrounds a beautiful courtyard with planting gardens, putting greens, croquet, and more. This helps our care partners provide the most personalized care within the industry and keeps our Members off elevators and stairs. Our communities will provide all Members with a five-star, Country Club resort lifestyle for like-minded people.
We are not a billion dollar corporation listed on the stock exchange. We are a family who has taken our passion, enthusiasm, and vision to create a unique boutique environment for seniors who desire supportive assistance, while still maintaining the independence of their daily lives. It is our commitment to help our senior community Members experience the best years of their lives.
Sincerely,
Your Courtyard Gardens Senior Living Family