COVID-19 Statement
Our continued focus on health and safety
As the global COVID-19 pandemic evolves, our community continues to fight this virus by consulting with a number of clinical and infectious disease specialists. We are in constant communications with the CDC, CMS, and local health authorities. Our community remains focused on promoting the health and safety of our residents and staff members.
Vaccine clinics: We are actively scheduling COVID-19 vaccine clinics throughout our community. Learn more about Vaccination by filling out the form below to contact our community for specific information on how to participate.*
Sign up here to receive more information about our COVID-19 Vaccine Clinic Information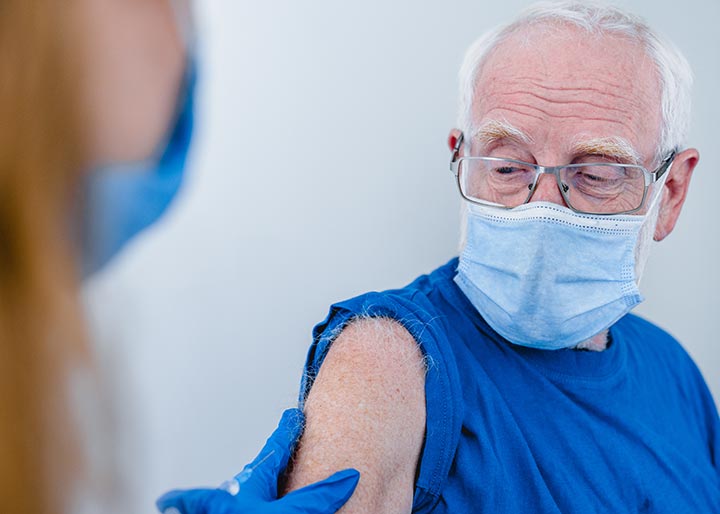 Courtyard Gardens stays committed to keeping our residents, families and staff members safe from the Coronavirus (COVID-19) pandemic. Our goal is to prevent any spread throughout our community. We continue to monitor the situation with the Florida Department of Health, State Surgeon General, Emergency Operations, Agency for Health Care Administration, and Centers for Disease Control and will advise you of any future changes as they are announced. Rest assured that our top priority is the safety and security of our residents who call Courtyard Gardens their home. We appreciate your understanding during this challenging but temporary situation.
VACCINE EFFECTIVENESS
According to Pfizer the COVID 19 vaccine "demonstrates BNT162b2 to be 95% effective against COVID-19 beginning 28 days after the first dose;170 confirmed cases of COVID-19 were evaluated, with 162 observed in the placebo group versus 8 in the vaccine group." This study was consistent across age, race, gender, and ethnicity demographics, with observed efficacy in adults over the age of 65, was over 94% effective.
VACCINE SAFETY:
According to Pfizer the COVID 19 vaccine has achieved "Safety data milestone required by U.S. Food and Drug Administration (FDA) for Emergency Use Authorization (EUA)." This "Data demonstrate vaccine was well tolerated across all populations with over 43,000 participants enrolled; no serious safety concerns observed; the only Grade 3 adverse event greater than 2% in frequency was fatigue at 3.8% and headache at 2.0%."
POLICY FOR APPROPRIATE USE OF FACE COVERINGS:
Face covering may be required by patients or visitors if they are exhibiting signs or symptoms of or a diagnosis of infectious disease that can be spread through droplets or airborne transmission. Face covering may be required when visiting a patient that has been diagnosed with or confirmed a condition affecting the immune system in a manner which is known to increase transmission of any infection.
Health care providers and residents can opt out of wearing a face covering if other means of infection control or infectious disease prevention are available. Per Bill of rights residents can opt out of wearing face covering. Health care providers and practitioners must allow staff to opt out of wearing face covering unless, they are conducting sterile procedures, working in a sterile area, or treating residents with compromised immune systems where air borne droplets can cause infection. Face covering can be a big helpful with regards to infection control, but there is no mandate that says we must wear face coverings.
VISITATION POLICY AND PROCEDURE
In-person visitation at Courtyard Gardens has no restrictions with regards to hours and number of guests, however we do recommend coming to visit from 7am-7pm. We want to protect our residents, but at the same time allow their loved ones the ability to visit them. Our visitation policy allows consensual physical contact between a resident and a visitor.
The first line of defense is infection control and educating visitors on infection control policies. Infection control for visitors includes but is not limited to hand washing, use of protective equipment, respiratory hygiene, clean and disinfected surfaces, clean equipment, and personal hygiene. Our visitor education includes hand washing for a minimum of 20 seconds, washing in between fingers, under the nail and up to the wrist area. Use of gloves, hands must be cleaned before putting on gloves and gloves must be changed after touching any contaminated surface or person. Respiratory hygiene includes coughing etiquette, coughing, or sneezing into the cuff of the arm not into your hands, so not to spread germs. Masks must be worn over the nose and mouth, being certain to seal the nose area with seal provided on mask. Protective eyewear must cover the entire eye so no germs can penetrate the eye. All surface area must be cleaned first and then sanitized second. Scott Winkel oversees staff adherence to visitation policies and procedures.
As you enter the community, you are required to sign in at the concierge desk as a guest. We have hand sanitizer, masks, and gloves available for your protection if you choose. Staff may not ask for proof of vaccination or immunization.
Any visitors who knowingly reject or dismiss our policies and procedures are subject to suspension of visitation.