Choosing a senior living community can be an overwhelming decision.
You're not just picking out a new home. You're also selecting the place where you'll spend your golden years, engage in daily activities, and build lasting relationships.
A great senior living community is more than just comfortable accommodations—it's about maintaining independence and enhancing quality of life.
The key lies in finding that perfect balance—a vibrant environment that respects your individuality while offering plenty of opportunities for social interaction, physical activity, and mental stimulation within the senior living community.
Table Of Contents:
Preserving Independence in Senior Living Communities
The transition into a senior living community can be daunting. But, it doesn't mean you have to give up your independence. At Courtyard Gardens, we have strategies and systems that help seniors lead fulfilling lives while preserving their autonomy.
"Our mission is not just about offering assistance; it's also about empowering residents to do what they can for themselves."

– Courtyard Gardens Team
How Assisted Living Facilities Foster Independent Living
We at Courtyard Gardens prioritize services that promote independence among our seniors. These include daily life activities training, cognitive stimulation exercises, and opportunities for self-expression through hobbies or interests.
Personalized care plans tailored around individual needs and preferences.
Cognitive wellness classes featuring puzzles or games designed to stimulate different parts of the brain.
Social events or group activities keeping minds active and engaged with peers – crucial for overall mental well-being.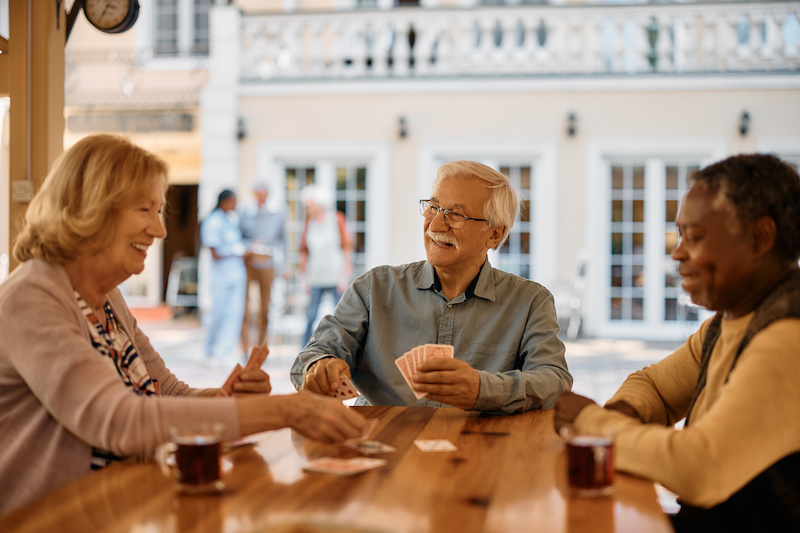 Mental Well-being: A Cornerstone of Independent Living
A key aspect of maintaining independence involves nurturing mental health. Our memory care programs are packed with therapeutic interventions aimed at slowing cognitive decline and promoting brain health. Regular interaction during these sessions fosters social connections, which contribute to an overall sense of well-being.
Remember: Preserving your freedom isn't synonymous with doing everything alone – we're here every step along the way, ensuring comfort without compromising personal liberty.
Fitness And Nutrition: Keys To Autonomy
Physical fitness plays a vital role when aiming for sustained independence among senior citizens. We organize regular fitness routines specifically tailored around elderly individuals' capabilities. These might involve light cardio workouts or gentle strength-building exercises under professional supervision, enhancing mobility over time.
Nutritionists ensure balanced meals are provided, taking residents' specific dietary requirements into account – because diet matters too.
You don't need to sacrifice your autonomy as you move into this new phase of life – let us support you on this journey.
Key Takeaway:
Transitioning to a senior living community doesn't mean giving up your independence. At Courtyard Gardens, we champion autonomy with personalized care plans, cognitive wellness classes, and social activities that keep minds active. Plus, our fitness routines and balanced meals ensure physical well-being matches mental vitality. Remember: embracing assistance isn't losing freedom – it's smartly navigating the golden years.
Transforming Your Living Space into a Personal Haven
The journey to personalizing your living space in Courtyard Gardens, our senior living community, may seem overwhelming. Nevertheless, it is not difficult to accomplish and the rewards are substantial.
Here are some insights on how you can turn your new residence into a cozy sanctuary that truly feels like home.
1. Infuse Your Personality
Wondering where to start? How about with what makes you, well…you. Bring along cherished mementos such as family photos or beloved books that remind you of fond memories.
You could also consider bringing comfortable furniture from your previous home if permitted by our policies. These pieces not only offer physical comfort but also serve as reminders of familiar times and spaces.
Recent statistics show that this kind of personalization significantly improves resident satisfaction in senior communities.
2. Utilize Shared Spaces Creatively
Apart from individual rooms, many facilities, including ours, offer shared spaces for residents to express their personalities or engage in hobbies they love.
We understand the importance these areas hold for fostering social interaction among our residents while still maintaining an element of individuality. That's why we've designed common areas such as lounges and gardens where members can connect over familiar activities – be it gardening or reading group meetings.
3. Embrace Community Living While Maintaining Individuality
Foster friendships: Use communal spaces not only for enjoyment but also for creating lasting bonds with fellow residents who share similar interests.
Maintain independence: Despite being part of a community, remember that at Courtyard Gardens, each resident is unique and valued as an individual.
Prioritize mental health: Striking a balance between communal engagement and private solitude plays a crucial role in addressing the mental health needs of seniors.
Key Takeaway:
Creating a personalized sanctuary in your senior living community can be as simple as infusing your space with cherished mementos and comfortable furniture. Don't forget to creatively utilize shared spaces for hobbies and social interactions, fostering friendships while maintaining individuality. Remember, balancing communal engagement with private solitude is key to supporting mental health.
Choosing the Right Activities: Boosting Independence in a Senior Living Community
Picking the correct activities for elderly individuals can appear to be a daunting task, but it's really not difficult and is very important. Let's explore how this can promote independence among residents at Courtyard Gardens.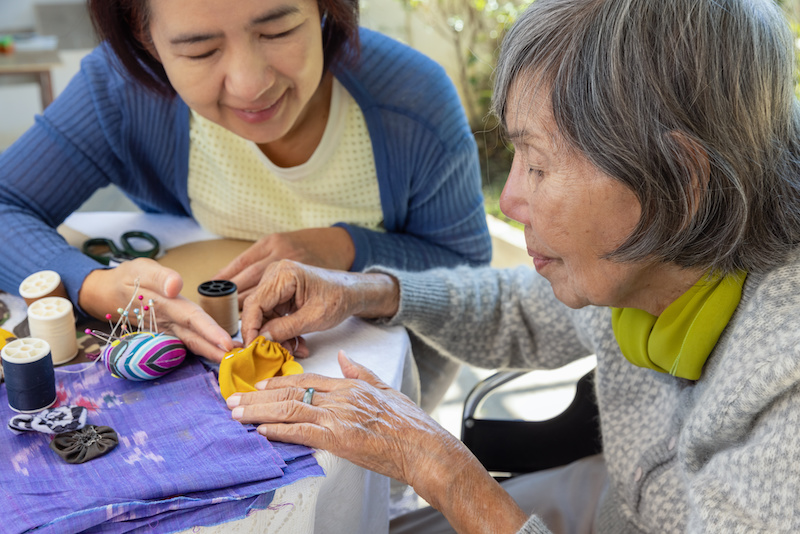 1. Understanding the Benefits of Activities
The first step is understanding why we're focusing on activity selection. How does picking up a paintbrush or joining an exercise class make a difference?
Well, each carefully chosen activity has physical, mental, and emotional perks. It keeps seniors physically agile for daily tasks while mentally stimulating them to ward off symptoms of dementia. And let's not forget about social interaction, which helps beat feelings of isolation.
2. Selecting Suitable Activities
To ensure you're offering value through these activities, they need to be appropriate for your senior community members – think engaging yet manageable.
This isn't overly complicated; with the right approach, you'll find numerous options that hit the mark perfectly, from puzzles that sharpen cognitive abilities to group outings that promote camaraderie among residents.
Create programs around individual interests to boost participation rates.
Mix up physical activities, like gentle exercises, with creative ones, such as arts and crafts, so there's something appealing for everyone.
Avoid common mistakes like pushing too hard or ignoring resident feedback.
3. Involving Residents in Decision Making
Involving residents in the decision-making process plays a crucial role when choosing activities. This empowers them, making them feel more independent within their community setting.
So what are some ways we can involve our residents? Here are a few suggestions:
Offer choices instead of dictating all the recreational pursuits.
Encourage open discussions about potential new hobbies or events.
Regularly ask for feedback after each event or hobby session.
All these steps will go a long way in ensuring the active involvement of your residents. Remember, choice equals empowerment.
Key Takeaway:
Choosing activities that stimulate both body and mind, cater to individual interests, and encourage social interaction is key to fostering independence in a senior living community. Involving residents in the decision-making process not only boosts participation but also empowers them, reinforcing their sense of autonomy. Remember: choice equals empowerment.
Exploring Social Opportunities in Senior Living Communities
The beauty of social opportunities within senior living communities is vast and varied. From the charm of shared hobbies to the allure of intellectual conversations, there's something for everyone.
Just as a resort might offer an array of services, so does Courtyard Gardens when it comes to facilitating interactions among its residents. The world doesn't end at their doorstep; instead, it opens up with numerous avenues for seniors to stay connected and active.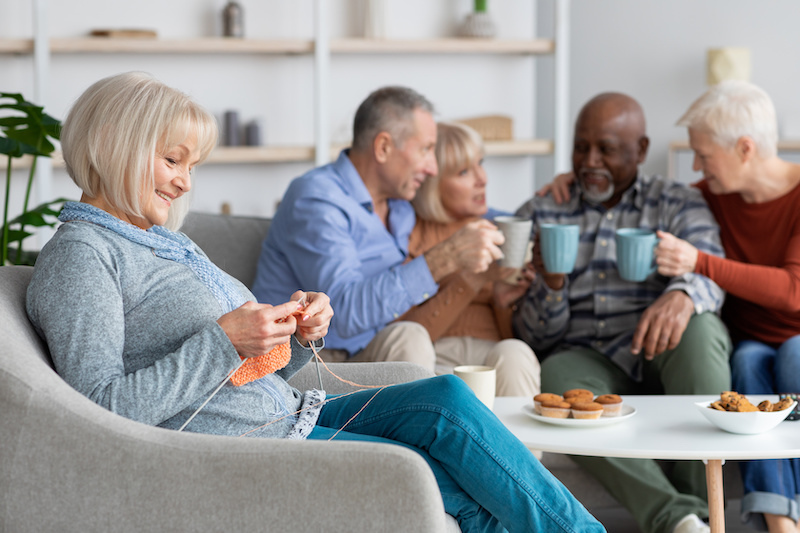 Diverse Activities in Assisted Living
Much in the same way technology can help boost profits in a business setting, assisted living activities work wonders in enhancing the quality of life for our elderly population. It's not just about keeping them occupied – these engagements bring joy, stimulate minds, and foster camaraderie.
No one-size-fits-all here. With diverse interests come diverse offerings: book clubs for literature lovers, gardening groups for those with green thumbs, or fitness classes that cater to health-conscious individuals.
Cognitive Health & Memory Care Engagement
In addition to regular social activities, we have specialized programs designed specifically towards memory care engagement – kindling cognitive sparks while nurturing bonds between participants through therapeutic exercises such as music events or art therapy sessions.
We aim high – always seeking innovative ways towards betterment because every single resident matters deeply to us.
Socializing Beyond Facility Walls
Frequent Outings For Residents:
We're strong believers in the power of outdoor exploration to enrich our lives. We see local attractions as ripe opportunities for excitement and connection. They spark lively chats about shared experiences and nurture a sense of community.
Key Takeaway:
Senior living communities, like Courtyard Gardens, offer a plethora of social opportunities to keep seniors engaged and connected. Activities are diverse – from book clubs to fitness classes – catering to varied interests. Specialized programs for cognitive health mirror the commitment seen in top content companies. Outings provide further chances for exploration and community bonding.
Staying Physically Active: The Key to Senior Wellness
We all know that physical activity is crucial for maintaining good health. Did you know how significant it could be for elderly individuals too?
Let's explore the benefits of regular exercise and discover tips on how to make physical activities enjoyable and safe for seniors.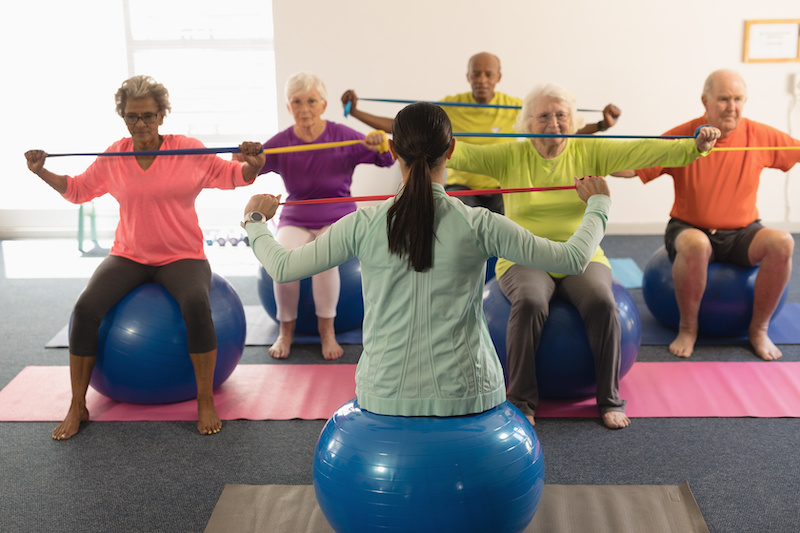 The Upside of Regular Exercise
Physical activity is not just about staying in shape. For seniors, maintaining a consistent exercise routine offers multiple advantages. It becomes easier to manage chronic diseases like heart disease or diabetes as regular workouts improve cardiovascular health and blood sugar control.
But it's not just the body that benefits. Let's not forget about mental wellness. Studies suggest that an active lifestyle can alleviate symptoms of depression and anxiety, while also giving an overall mood boost.
Picking Suitable Activities
Remember, different strokes for different folks – this applies to choosing exercises too. Seniors need activities that cater to their capabilities while effectively engaging them. Walking could be an excellent low-impact choice, improving balance, coordination, and cardiovascular health without straining joints excessively.
Tai Chi & Yoga: A Gentle Approach
Yoga or tai chi are other fantastic options for enhancing flexibility and muscle tone – ideal for those with arthritis or joint issues. These practices are gentle yet effective in promoting overall well-being.
Making Fitness Fun at Courtyard Gardens
At our senior living community, we believe that keeping residents physically active should be a part of their daily life, but also a fun experience. We offer group classes that provide an opportunity to socialize while exercising – a great motivator.
Safety First: Precautions during Physical Activity
Safety is paramount, particularly when it comes to memory care patients. Always check with healthcare professionals before kicking off any new fitness routine. They can suggest exercises that fit your needs and limits perfectly. Our skilled team keeps a close eye on everyone during workouts, making sure they're safe all the way through. And we don't believe in diving headfirst into tough routines – we promote a slow and steady start.
Key Takeaway:
Staying active in your golden years is a game-changer. Regular exercise, tailored to seniors' capabilities, not only boosts physical health but also enhances mental wellness. Remember: safety first and always consult healthcare professionals before starting any new fitness routine. And most importantly, make it fun – socialize while you sweat.
Managing Mental Health Challenges in Senior Living
Mental health plays a pivotal role in the overall wellness of seniors, particularly those residing in communities like Courtyard Gardens. It's not just about physical health; mental well-being matters too.
A strategy that can significantly improve your mood and energy levels is regular exercise. This isn't just hearsay – it's backed by scientific research.
The Power of Social Interaction
Another vital aspect to consider is the impact of social interaction on senior mental health. Feeling connected with others helps ward off feelings of loneliness, which often lead to depression.
Courtyard Gardens promotes various community activities for its residents – from book clubs to gardening groups – providing opportunities for meaningful connections and cognitive stimulation.
Eating Right: Nutrition And Mental Health
Nutrition plays an important role in supporting mental health, as the right foods can help regulate moods and manage stress. Nutrient-rich foods are key players here, as they support brain function and help regulate moods while effectively managing stress.
Research shows that a healthy diet reduces the risk of developing cognitive impairment or dementia later in life.
Families Play Their Part Too.
Beyond care plans at Courtyard Gardens, family members play an important role in managing seniors' emotional well-being by providing emotional support through visits or calls, thereby contributing to a supportive environment conducive to a positive psychological state.
At Courtyard Gardens, we strive not only to offer quality care but also to ensure our residents maintain good emotional and psychological well-being because we believe every person deserves happy golden years.
Unlocking Support Services in Senior Living Communities
The journey to accessing support services in senior living communities may initially seem challenging, but it is actually quite straightforward once you understand the steps involved.
Here are some practical ways to tap into the vital resources available at Courtyard Gardens.
1. Understand Your Needs
Start by inquiring what type of support you or a family member may need. Are you in need of help with daily tasks such as meal preparation and medication management? Or do you require specialized memory care?
By prioritizing these needs, you can find suitable assisted living options that consistently meet your specific requirements. Having a clear understanding of your personal necessities can greatly simplify the process and provide clarity on which services to seek out.
2. Engage with Community Staff
The next step involves connecting directly with the staff members who provide assistance within our community. They are an excellent resource because they have a deep understanding of how things work at Courtyard Gardens.
You can set up meetings with them to have any questions regarding the support services provided by Courtyard Gardens answered.
Inquire about personalized care plans that would be best suited for your situation.
Gain insights from their experiences in assisting other residents and learn about what works well and potential challenges.
This dialogue between family and carers not only offers beneficial information but also aids in fostering trust which is essential when tackling elderly health matters.
3. Utilize Available Resources Consistently
Navigating through the various offerings can sometimes be overwhelming, especially when considering factors such as medical conditions or personal preferences.
However, there's no need to worry. We have plenty of resources designed specifically for situations like this.
If you're unsure where to begin, consider using our comprehensive guide on the different amenities offered by us.
Plus, we regularly open our doors for tours. This lets you witness how everything works up close.
Key Takeaway:
Decoding the path to support services in senior living communities is a breeze with these three steps: understanding your needs, engaging with community staff, and utilizing available resources. By prioritizing personal necessities, connecting directly with caregivers at Courtyard Gardens for insights and personalized care plans, and consistently using our tailored guides or taking advantage of open-door tours.
FAQs in Relation to Senior Living Community
What is a major problem with continuing care retirement communities?
The main issue can be cost. Continuing care retirement communities often require substantial upfront fees and monthly charges, which may not be affordable for everyone.
How much does it cost to live in a senior community in Florida?
Average costs range from $2,500 to $4,000 per month depending on the location and services provided. However, prices vary widely based on the specific community.
What is the best age to move into independent living?
The optimal time varies for each individual but generally around 70-75 years old when one begins needing assistance with daily tasks yet still desires independence.
What is the home of a senior citizen called?
This can be referred to by a variety of names such as "senior living community", "retirement home", or "assisted living facility" depending on the level of care needed.
Conclusion
Maintaining independence in a senior living community is all about personalizing your space.
Choosing the right activities can boost this sense of autonomy, too.
Social opportunities are not just fun but also key to preserving independence.
Physical activity? Absolutely crucial for overall well-being and self-reliance among seniors.
And let's not forget mental health challenges – they need managing as well!
Support is accessible to aid you in living autonomously and happily on your own terms within the community.
Courtyard Gardens, with its specialized focus on assisted living and memory care, ensures that maintaining an independent lifestyle doesn't have to be daunting or difficult. Come join us today and discover how we foster a vibrant retirement life for our residents!