Health And Nutrition For Senior Citizens
As you get older, it's easy to let your diet go the way of all things and get into bad habits that aren't as good for you as they could be.
If you want to keep your heart strong and healthy, you should consider making a few changes to the way you eat in your golden years. Eating healthy is a priority when living at a Boynton Beach assisted living facility as their staff ensures a balanced diet, but it is still important that you eat foods that are not only good for your body but also your mind.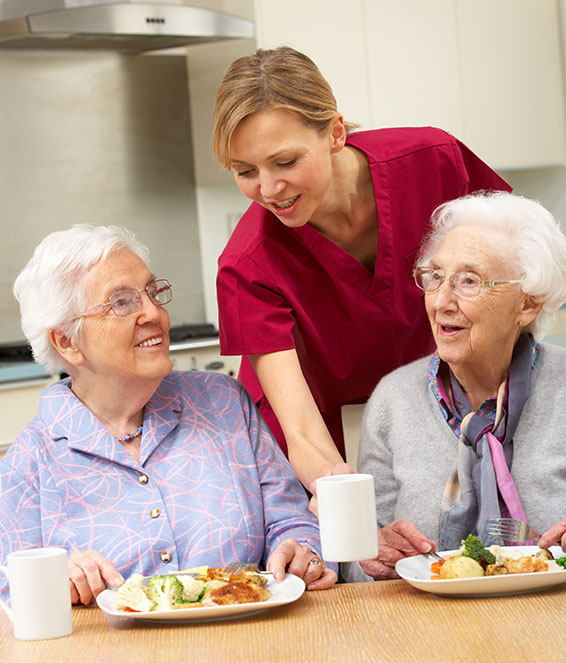 Courtyard Gardens of Boynton Beach

Specializing in memory care, assisted living, and independent living with supportive services.
Your vibrant community will consist of other members who seek to enjoy an active and inspired next chapter of their lives, along with their friends.
Diet Tips for Seniors Who Want a Healthy Heart
If you want to prevent heart disease and keep your body healthy, a diet rich in nutrients and low in calories is the way to go. However, just because you're older doesn't mean that you can't live your life on your terms.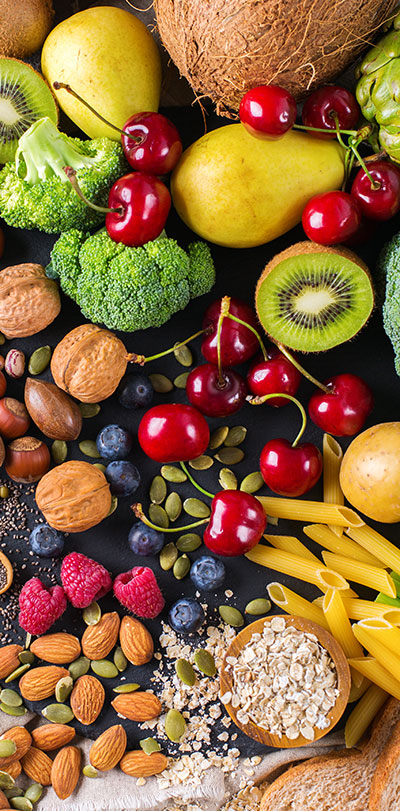 Buy Colorful Fruits And Vegetables
Fruits and vegetables are nature's antioxidants. They are filled with vitamins, minerals, and fiber. Fruits and veggies give your body what it needs to keep from breaking down. On top of all that good stuff, they're delicious.
Choose Healthy Fats
Most seniors want to avoid consuming fat, but choosing healthy fats is beneficial. Good sources of healthy fats include olive oil, avocados, nuts, and seeds. Selecting these foods in place of saturated or trans fats can help keep your heart healthy by reducing LDL (bad) cholesterol and raising HDL (good) cholesterol levels.
Be Sure To Include Nuts And High Fiber Foods
Incorporating nuts into your diet is one of the easiest ways to reduce your risk of heart disease. Try adding chopped walnuts, almonds, or cashews to salads or oatmeal. High-fiber foods like broccoli, peas, and beans also help lower cholesterol levels and protect against cardiovascular diseases.
Read The Labels On Canned And Packaged Foods
Canned and packaged foods are loaded with sodium—and that's especially true of canned soup. In addition to providing an unnecessary amount of salt, too much sodium can exacerbate high blood pressure.
Make Sure The Food Is Still Flavorful
Taste matters. And it's all too easy to start skimping on flavor when we get older and tastes change. If you want your food to still be flavorful, try these tips: Add different spices to your meals, such as cinnamon or curry.
7 Food Choices that Help Delay the Aging Process
As we get older, we all experience changes to our bodies and health. Though these changes are natural, that doesn't mean we can't try to delay them or even prevent them from happening altogether.
Check out these seven food choices that can help delay the aging process, making life just a little bit easier as you grow older.
Nuts
Nuts frequently are less likely to develop heart disease and age-related problems like Alzheimer's. The body digests a small amount of fats in nuts instead of larger amounts found in red meat, eggs, and butter.
Berries
Berries are a superfood; they're loaded with antioxidants, fiber, and vitamin C. Research has shown that berry compounds can increase lifespan by up to 20%. Adding berries to your diet may have an anti-aging effect on your body.
Fatty Fish
Fish is an excellent source of omega-3 fatty acids, which may help delay signs of aging by boosting heart health and reducing inflammation. It also provides protein and vitamin D, both known to improve skin elasticity and firmness.
Yogurt
Yogurt is a great source of calcium; it's also rich in vitamin D, which can slow down skin cell turnover. Yogurt can help improve skin health and fight aging.
Olive Oil
Loaded with monounsaturated fatty acids, olive oil can lower your bad cholesterol levels and raise your levels of good cholesterol.It also contains anti-inflammatory agents and antioxidants—both important for preventing aging—and it's tasty.
Dark Chocolate
The antioxidant flavonoids in dark chocolate have been shown to aid blood circulation and prevent or reverse arterial damage. The magnesium in dark chocolate helps lower blood pressure, a common contributor to premature aging of your skin.
Spinach
Spinach helps reduce cholesterol and blood pressure while keeping your brain functioning at peak performance. The mineral manganese found in spinach also has been shown to slow or even reverse age-related memory loss.
Brain Food That May Support Proper Cognitive Function In Seniors
One of the biggest concerns for seniors, and their loved ones, is how to live life to the fullest while maintaining proper cognitive function as you age. Fortunately, it's possible to help maintain proper cognitive function as you age by eating foods that support brain health and cognitive function in general.
Cold-Water Fish
The consumption of cold-water fish is linked to positive cognitive health, including improved focus and better memory. It's thought that a molecule called Docosahexaenoic acid (DHA) is one of many substances found in fatty fish that may promote brain health.
Blueberries
Eat a serving of blueberries, and you'll get nearly 8 grams of dietary fiber per serving. Blueberries also contain ellagic acid, which has been shown to help memory retention in older adults.
Green Vegetables
One reason green veggies are good for your mind is because they're high in folate, a B vitamin that has been shown to slow cognitive decline in seniors. Be sure to try a variety of green vegetables, including kale, broccoli, and spinach.
Walnuts
Walnuts also contain various antioxidants and plant compounds which may help slow mental decline. They're also packed with essential nutrients like copper, manganese, magnesium, and biotin.
Green Tea
Not only is green tea rich in antioxidants, but it's also high in catechins and L-theanine, which improve cognitive function in older adults and reduce anxiety, respectively.
Other Methods For Seniors To Remain Healthy
While food is one of the biggest factors in senior health, one should also consider physical activities. At Boynton Beach assisted living facility, seniors are exposed to several activities that allow them to remain active and healthy. These include:
Enjoy your meal in our of our 4 dining areas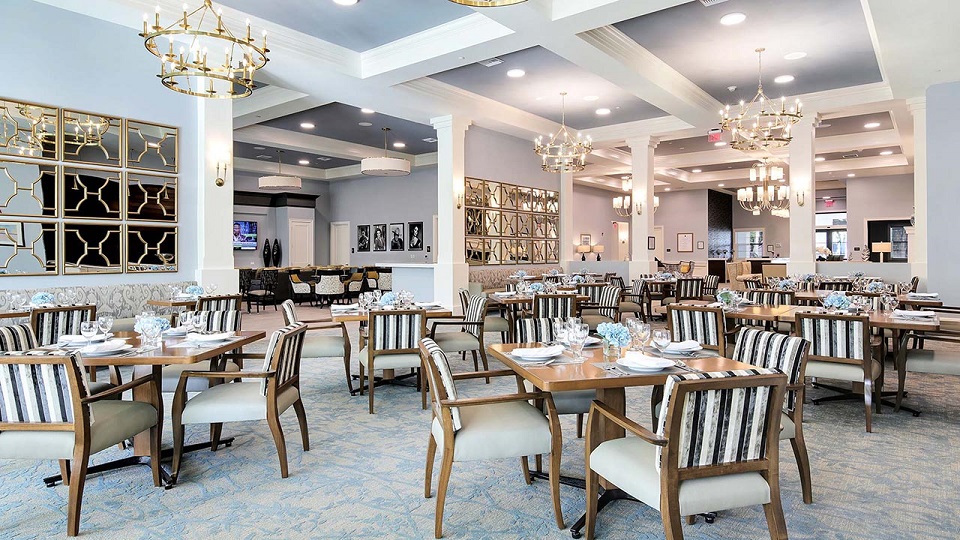 Main Dining Room
Enjoy an elegant meal with friends as you gather in our fine dining room for an exquisite culinary experience. The Main Dining Room offers a formal setting for everyone to enjoy.
Bistro Bar
Our Bistro Bar offers a comfortable and casual dining experience. Meet friends there throughout the day. Eat whenever you please. Enjoy comfortable seating as you catch your favorite show.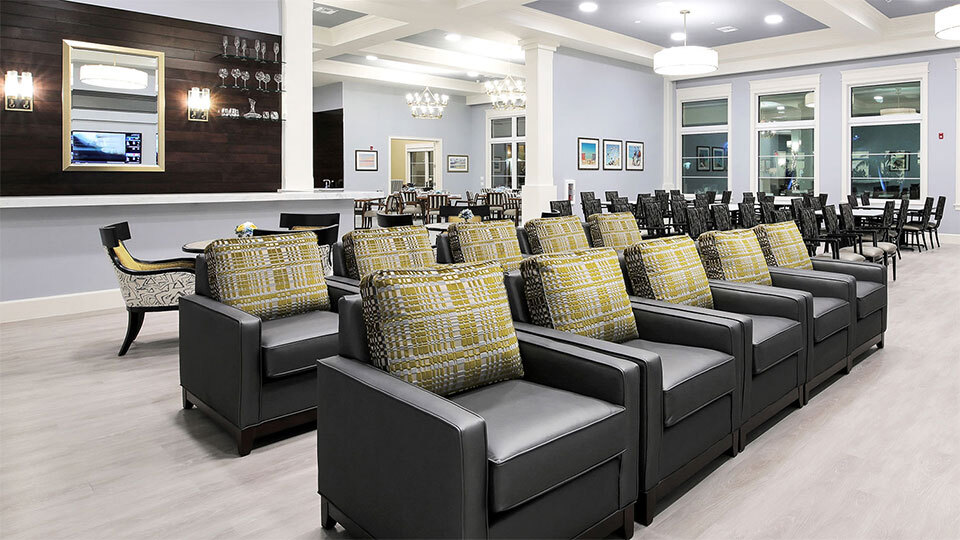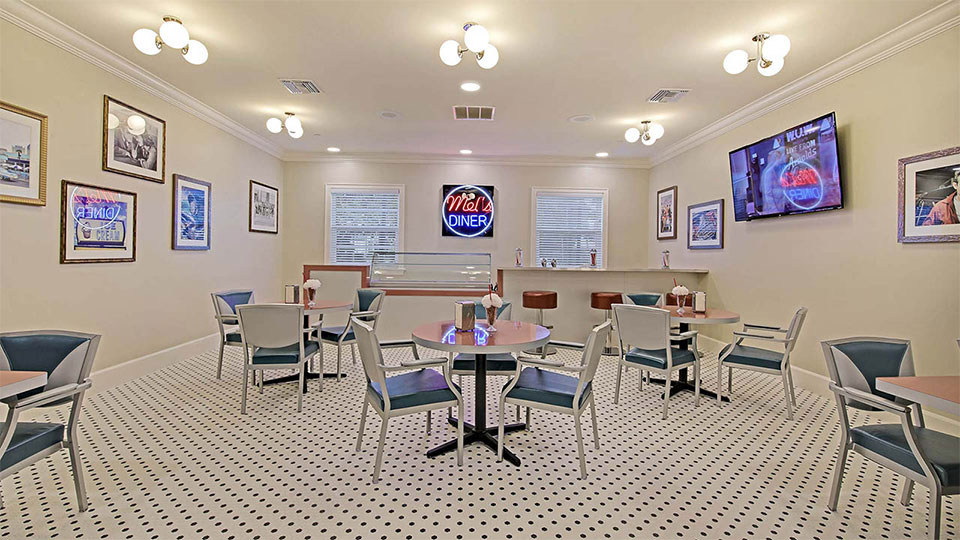 Mel's Diner
Our 1950's themed diner is a blast from the past. Decorated with a 1950's flair, you can grab a coffee, enjoy a diner style breakfast, and even pick your favorite song on the jukebox.
Patio
Our Patio dining is made up of a mixture of tables and comfortable patio seating. This candlelit space overlooks the beautiful gardens. After you enjoy your meal, try your hand at golf on one of our many putting greens.